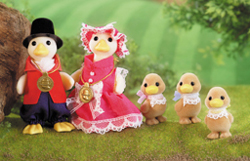 Mayor Bill Waddlington likes to get things done and hates what he calls 'time wasting'. He's always in a rush and is often heard to say 'Life is for doing not watching!' He's very proud of his mayoral chain of office, which he is rumoured to wear to bed.
Mayoress Wanda Waddlington runs the Sylvanian delivery service called 'Flyte Path' whose motto is 'One ring and we are on the wing'. She's and excellent businesswoman, and although she doesn't rush about as much as her husband, she seems to get much more done!
Quilller Waddlington is a very serious little boy who thinks deeply!
Sebastian Waddlington is just like his father, always in a hurry, organising this and that and telling everyone what to do!
Jemima Waddlington is a dreamer who lives in a little world all of her own!