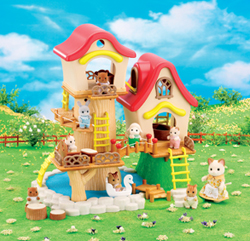 You can buy all of the parts to the playground separately.
Baby Fairground House
It includes a beautiful baby playground with two pretty wendy houses.
Baby Tea Cup Ride
Turn the handle and watch your Sylvanians whirl round and round.
(Two baby sylvanians included)
Baby Ferris Wheel
Turn the handle to rotate the ferris wheel.
Baby Train Play House
The baby train playhouse includes a climbing frame, ladders, slide and a picnic table.